Enterprise Digital Platform – Integrating RPA and AI into the Enterprise
'Enterprise Digital' defines a model and strategy for large organizations adopting the plethora of new AI-centric capabilities, from RPA through chatbots.
'Enterprise Digital' is a term to encapsulate this challenge and the definition of an architecture and technology stack that addresses it.
It will be populated by a new era of vendor solutions and capabilities. For example via an SAP-sponsored series CIO.com describes the 'Enterprise Digital Platform', describing it as having:
five key service layers – engagement, integration, development, data, and core IT – it integrates enterprise applications, makes data accessible, and easily connects with ecosystems and users.
In another SAP article they highlight example case studies like European retailer Zalando, who they describe as having a vision of "being a platform that functions as an operating system for the fashion world, with multiple ways of integrating all forms of fashion contributors and stakeholders."
This is the key strategic dynamic – An enterprise technology purposely intended for implementing Platform Business Models, no longer thinking in terms of linear supply chains but instead of enabling and orchestrating multi-dimensional digital ecosystems.
"Zalando is creating a hyper-connected business ecosystem of consumers, customers, partners and 'connected things'."
The article describes IDC decomposing the Enterprise Digital Platform into its constituent major component parts:
Core IT is not a 'separate' environment – rather the applications are brought to the center of the integrated 'Enterprise Digital Platform'.
"data layer" – a data discovery environment with great analytical capabilities designed to extract business value and meaning.
On the "development layer", IT-professionals can continuously deliver new digital products and services.
The "integration layer" uses services and APIs to connect the internal and external ecosystems.
Finally, on the "engagement layer" the users have frontends that connect them to this ecosystem, allowing a whole new customer-centric, immersive experience.
The role of the Enterprise Digital Platform is a singular environment for uniting all of these component parts into a manageable environment for large organizations.
Real-Time Enterprise
A fundamental characteristic is elevating the enterprise to operate in real-time, providing instant responsiveness to customers across multiple channels, and defining the context for key developments such as AI and chatbots.
For example Forrester are reporting on 'RTIM' – Real Time Interaction Management, what captures the essence of the evolution of CRM to CXM – Customer Experience Management, a major capability within the overall suite that itself breaks down into next-best experience, cross-channel marketing, personalization, cross-channel communications, and loyalty marketing, and populated by vendors like Adobe, Certona, Emarsys, FICO, IBM, Infor, Kitewheel, and Pegasystems.
As Forrester describe these are technologies closely aligned with and intended to enable the enterprise to envision and design multiple customer journeys, intelligently adapting to their context and preferences and presenting them with the the right digital engagement at the right time.
At their recent Edinburgh Customer Summit Pegasystems showcased a number of clients active with this new paradigm. Paul de Laat, Customer Data & Insight Director at Centrica, described how they transformed their customer experience, one that previously left customers feeling undervalued and underwhelmed, a 'transaction only' experience. With their shift to Smart Meters the volume of data they have to deal with has also expanded exponentially.
Through a Pegasystems-based Enterprise Digital Platform, they built a solution that leveraged an SAP Hadoop Data Lake to define an Insights Data Model, knowledge about each customer that enabled them to automatically generate personalized Campaign Offers, presented to them via a 'Customer Choice Hub'. Each customer was offered incentives they would find most valuable, pulled from a library of different templates and triggered upon key events.
Pegasystems provided them the tools to create these personalized campaigns, using Product Roadmapping techniques to plan these new customer journeys and extend them across multiple channels including email, mobile, inbound and outbound telephony, and consequently halved their churn rates and increased digital engagement by 13%.
Enterprise AI and RPA Process Transformation
Provisioning these types of experiences can be seen as the first use cases for the general adoption of AI in the Enterprise.
Google reports on how more than half of organizations polled say their businesses are using statistical machine learning (63 percent), robotic process automation (59 percent), or natural language processing and generation (53 percent). Just under half (49 percent) are still using expert or rule-based systems, and 34 percent are using deep learning.
Writing on Forbes.com Nathaniel Palmer describes this as an overall trend of Intelligent Automation, with RPA being one of it's four essential pillars.
Nathaniel highlights how RPA offers the tools for achieving low hanging fruit quick win applications of AI. In short anywhere and everywhere humans are used to conduct repetitive IT tasks is fertile ground for RPA.
And in any large enterprise these scenarios are myriad. Despite the adoption of large scale application systems lots of office work is still achieved through Excel spreadsheets and Word documents completed manually and emailed between colleagues.
Any process relying on this type of manual effort is a drag on the overall process performance and on the productivity of each person doing it, the type of automation IT was always intended for and scenarios that RPA is particularly adept at addressing.
Sarah Burnett of the Everest Group provides insightful commentary about the integration aspect of RPA, suggesting that the immediacy of 'surface level' integrations will face a brittleness due to changes in the target application and ultimately we'll see API-based approaches offer more robust solutions.
She also describes an Enterprise Digital Platform via another name, the Digital Capability Platform: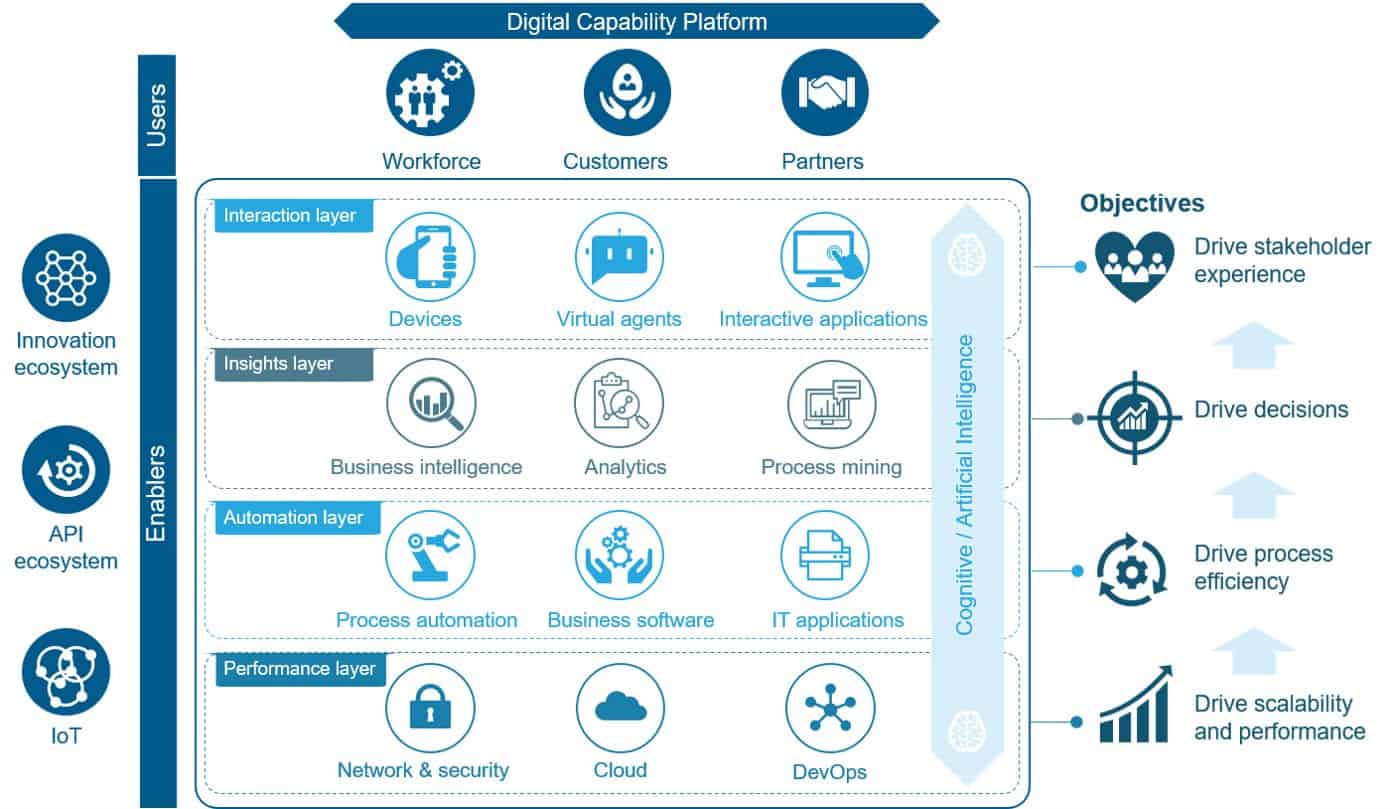 Conclusion
The Enterprise IT landscape evolves through major eras of change – From the first Data Processing Centres, through PC Client Server, Internet and Cloud, and now that we are well into the era of Platform Economy, we're now witnessing this scale of evolution.
Enterprise Digital Platforms will become the umbrella concept and model that defines how vendors and CIOs go about pioneering its adoption.