This previous blog describes the simple techniques we've applied to achieve a front page Google search front page ranking for Digital Scotland.
The central point is a case study of what can be accomplished with zero budget. For growth hacking micro-businesses like ours, it demonstrates that it's possible to achieve this type of success without the need for big bucks marketing spend.
Enterprise SEO
So the next consideration is what about large enterprise marketing campaigns, those that do spend significant amounts on their digital promotions – What techniques and tools can they turn to to maximize their online impact?
The same principles still apply – They should also be publishing well written content and ensuring it is all expertly SEO indexed, the added dimension is that they then have large budgets available for key activities like PPC marketing (Pay per click) so the keynote question is how do they measure and optimize the ROI of that spending?
QueryClick
This highlights vendors like QueryClick, a digital and SEO marketing agency based in Edinburgh. Raising £2m in August from Archangels and SIB to accelerate their growth, they have developed an AI-based analysis platform for auditing and improving the effectiveness of PPC and SEO marketing for large digital businesses, for clients like EE, Tesco Mobile and BT among others.
Notably the challenge they address is the 'last-click challenge'.
A few years ago Google launched Attribution to address this, a way of identifying the specific source of traffic from advertising. Declaring the 'Death of Last Click Attribution' the Tinuiti blog explains the concept and the challenges associated with it. Search Engine Land offers this explainer for search marketers.
Google Attribution is focused on understanding the full customer journey versus only last-click impact, but it faces significant challenges in terms of implementation.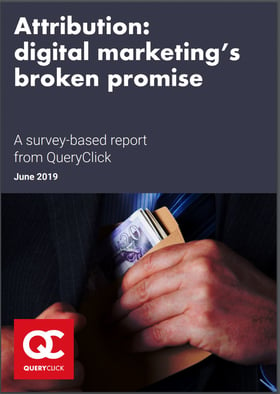 As they explain in their introductory white paper:
"Unreliable or false attribution leaves almost 90% of marketers afraid to invest in activities with any kind of long-term payback because of their inability to prove the value."
Digital marketing managers have slammed current attribution solutions as "verging on useless" in a new survey commissioned by QueryClick.
QueryClick is another excellent example of a Scottish startup harnessing the power of the Cloud to bring innovative new capabilities to market.
A scalable cloud architecture and a sophisticated, customisable data-cleansing solution means they can process very large volumes of real-time data feeds.
Their data insight platform provides best-in-class attribution data at near-live frequency. Its forecasted attribution capability allows proactive multichannel marketing spend adjustments, delivering immediate paid marketing spend performance improvements and ensuring the highest possible overall ROI.